5 Reasons why you should buy Impact Windows now
1. Protect your family, residence and belongings against high velocity winds.
Some geographical locations are more likely to experience tropical rain, hurricanes, tornadoes and other natural events which could end in the loss of all you love.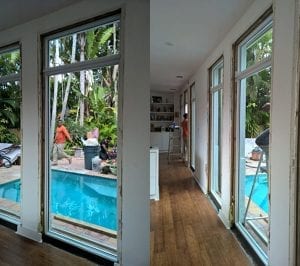 2. Improve the energy performance within your Living Space.
Buying units that provide impact glass (monolithic or insulated) with Low-E coating will allow you to reduce the incidence of the Solar Rays that affect your property's interior environment.
3. Save money in Electri
city Bills and Insurance Policies.
After you replace all the existing Windows & Doors at your property, the building becomes weather tight and it will definitely impact your utility bill by, approximately, a 10 to 20% reduction. Also, we will provide you with a letter that can be presented to your insurance provider in order to request a review of your yearly policy rate.
4. Improve the Acoustic of y
our property.
Noise attenuation is always an advantage brought by Impact Windows. Having 2 panes (monolithic) or 4 panes of glass (insulated), together with a new seal will reduce the noise in both ways, from and to the outside of your home.
5. When replacing units at a single family home, you could decide to make some changes to the type of units that will be installed.
Double and Single Hung Units can be changed for Horizontal Sliding Units, Sliding Doors can be changed for French Doors, etc. This will bring your own touch and your requirements will be full-filled, from the esthetical and functional point.