Some Terminology
FLOAT GLASS – a single sheet of glass derived from floating molten glass onto a bed of molten tin until it cools and hardens
ANNEALED GLASS – float glass that is heated and cooled slowly to relieve internal stress during the forming process. Upon impact annealed glass breaks into large shards and not considered a safety glass
TEMPERED GLASS – float glass that has been strengthened by heat to a high temperature and cooled quickly to provide glass that can flex farther than annealed glass and upon impact break into very small pieces rather than larger shards (a type of safety glass)
LAMINATED GLASS – 2 or more layers of glass joined together by a layer of plastic, resin or other materials to prevent shattering and aid in impact resistance (a type of safety glass)
RESTORATION GLASS – mouth blown or machine drawn glass which represents glass produced from various time periods and reflects imperfections on various scales depending on its type
LOW E COATED GLASS – Shorthand term for low-emissivity coating on glass; Low-E is a coating applied to glass made up of a layer of metallic oxide which blocks harmful UV rays from penetration and helps reduce the amount of solar heat entering an enclosed space
TYPES OF RESTORATION GLASS
Bendheim Light Restoration (approx. 3/32" thick – 34" x 39" sheet size) – mouthblown
Represents 19th – early 20th Centuries glass – light distortion, occasional bubbles & imperfections
Annealed or able to be laminated to 1/8" clear float glass for approx. overall thickness of 5/16"
Bendheim Full Restoration (approx. 1/8" thick – 24" x 36" sheet size) – mouthblown
Represents 17th – 18th Centuries glass – heavier distortion, more frequent larger bubbles & imperfections
Annealed or able to be laminated to 1/8" clear float glass for approx. overall thickness of 5/16"
Goethe Restoration (approx. 3/16" thick – 59" x 63" & 63" x 83" sheet size) – machine drawn
Represents 1900 to 1950 era glass – light distortion, infrequent bubbles & imperfections
Considered Light restoration glass
Annealed or able to be laminated to 1/8" clear float glass for approx. overall thickness of 3/8"
Restover Restoration (approx. 1/8" thick – 40" x 60" & 59" x 63" sheet size) – machine drawn
Represents 1900 to 1950 era glass – light distortion, infrequent bubbles & imperfections
Considered Light restoration glass
Annealed or able to be laminated to 1/8" clear float glass for approx. overall thickness of ¼"
TYPES OF LOW E GLASS COATS
There are two types of Low-E (low emissivity) glass:
Pyrolytic or hard coat
Sputtered or soft coat
Hard coat Low e glass
Created by pouring a thin layer of molten tin onto a sheet of glass while the glass is still molten. As a result, the tin becomes welded to the glass. This process makes the hard coat very durable and difficult to scratch or remove. In most cases, this hard coat low e glass has a blue tint to it and is often used in single glazed windows.
Soft coat Low e glass
Soft coat Low-E glass is created by applying silver, zinc or tin to glass in a vacuum. The coating is delicate and if exposed to air, the coating is subject to oxidation. Therefore, soft coat low E coating must be between two layers (or panes) of glass. While Soft Coat glass is more expensive than hard coat low e glass, it has superior transmission of visible light. However, it is less durable and requires ideal storage and handling conditions to ensure the glass is not damaged.
Which low e coating to choose?
The selection is dependent on the climate you live in. As a general rule:
Soft coat low e glass is ideal for warmer climates: Soft coat will help you save on air conditioning costs by not trapping heat in your house as it has the ability to block up to 70% of UV rays. Low e coatings are placed on the inside surface of the outer pane of glass. This prevents the external heat being transferred from the hotter outer pane to the cooler inner one.
Hard coat low e glass is best for cooler climates: Hard coat will help keep your heating costs down. The coating prevents the warmer inner pane of glass from transmitting heat to the colder glass on the outside of the window, reducing the heat lost to the cold air coming from outside.
INSULATED GLASS UNIT (IGU)
DEFINITION
2 or more pieces of glass separated by a spacer material and sealed to trap air or gas for insulation purposes
SEALANT USED @ RWD
Consists a primary PIB (Polyisobutylene) seal applied to spacer material & a secondary 2-part Structural Glazing Sealant used to fill void behind spacer material, in between panes of glass
SPACER MATERIAL
RWD standard spacer material is an aluminum perforated material provided by All metal – available in various finishes and sizes
Spacer material is filled with Desiccant – a moisture absorbing material designed to keep moisture from forming inside the IGU
MUNTIN BAR MATERIAL
RWD standard muntin bar material is an aluminum material provided by Allmetal – available in various finishes and sizes
GAS FILLING
Inert, non-toxic gas that is five heavier than ambient air
RWD fills all IGUs with Argon
Aids in reducing heat transfer, sound transmission and helps reduce potential for condensation
IGU SURFACE LABELING
IGU with Laminated Glass
IGU with Single Pane Glass

PERFORMANCE RATINGS
The NFRC ( The National Fenestration Rating Council ) label can be found on all ENERGY STAR qualified windows, doors, and skylights and provides performance ratings in five categories:
U-Factor measures the rate of heat transfer and tells you how well the window insulates. U-factor values generally range from 0.25 to 1.25 and are measured in Btu (British Thermal Unit)/h·ft²·°F. The lower the U-factor, the better the window insulates
Solar Heat Gain Coefficient (SHGC) measures the fraction of solar energy transmitted and tells you how well the product blocks heat caused by sunlight. SHGC is measured on a scale of 0 to 1; values typically range from 0.25 to 0.80. The lower the SHGC, the less solar heat the window transmits
Visible Transmittance (VT) measures the amount of light the window lets through. VT is measured on a scale of 0 to 1; values generally range from 0.20 to 0.80. The higher the VT, the more light you see
Air Leakage (AL) measures the rate at which air passes through joints in the window. AL is measured in cubic feet of air passing through one square foot of window area per minute. The lower the AL value, the less air leakage. Most industry standards and building codes require an AL of 0.3 cf·m/ft²
Condensation Resistance measures how well the window resists water build-up. Condensation Resistance is scored on a scale from 0 to 100. The higher the condensation resistance factor, the less build-up the window allows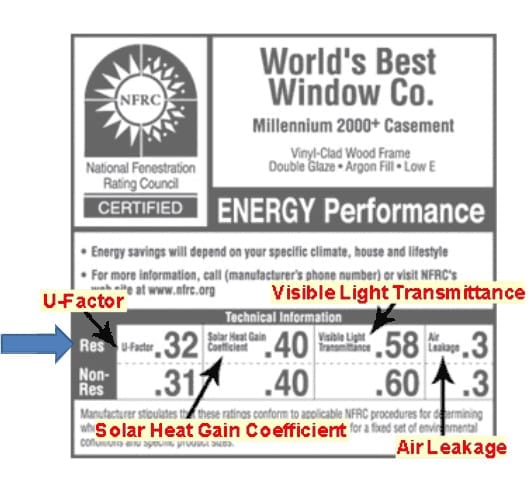 Visible Transmittance (VT)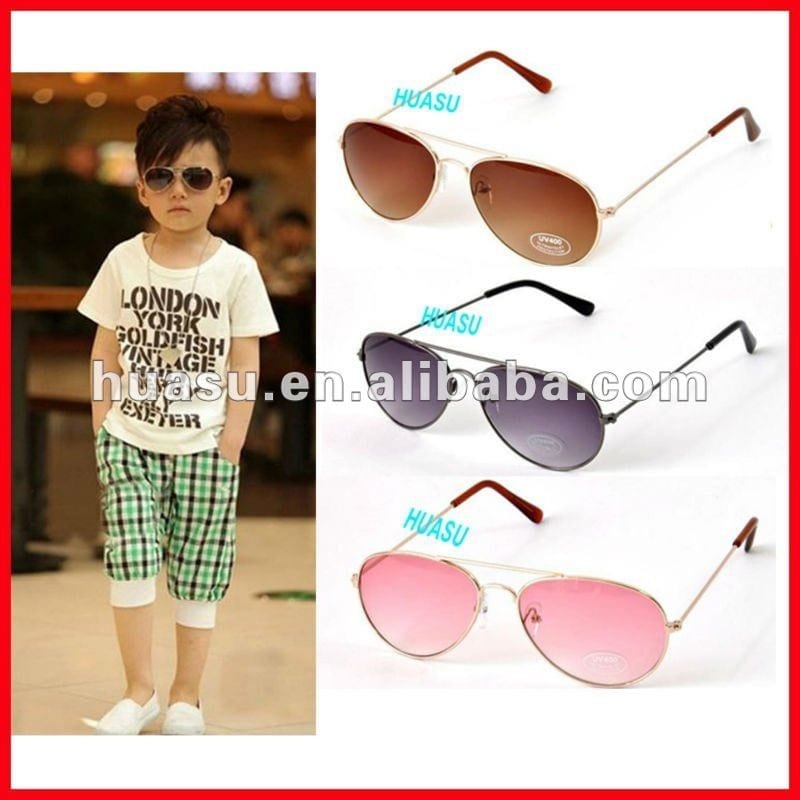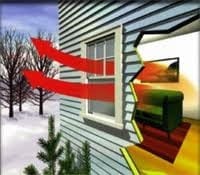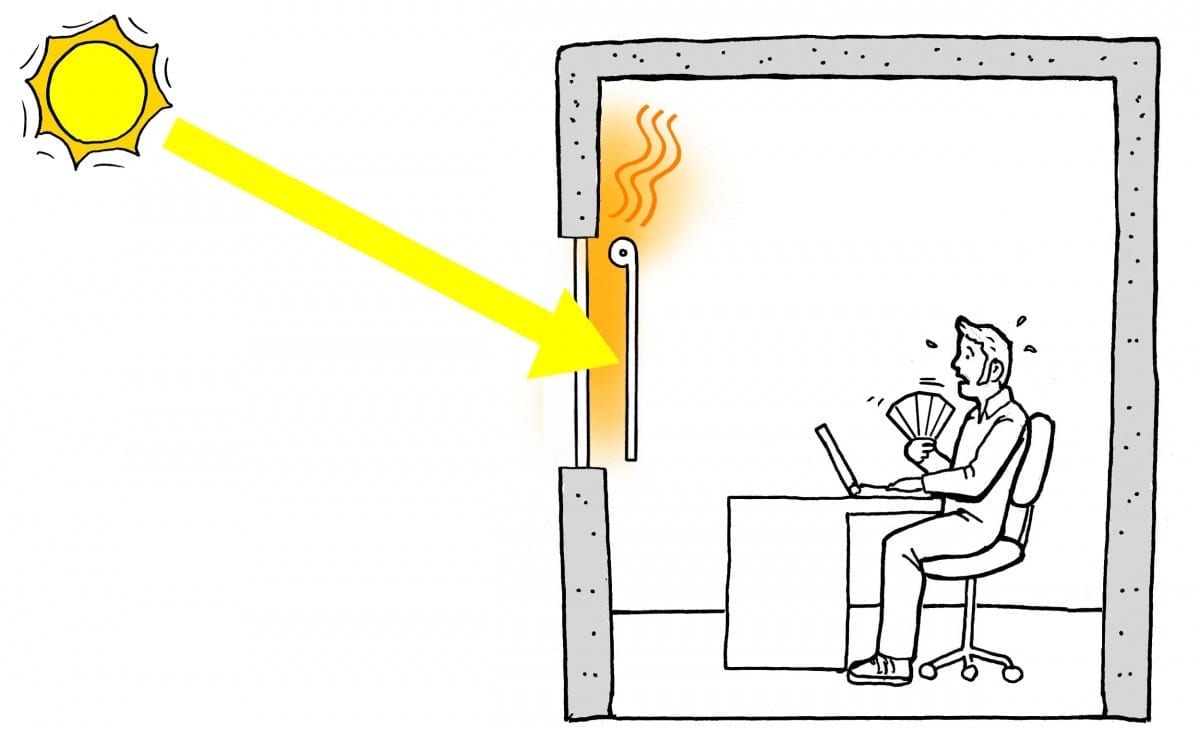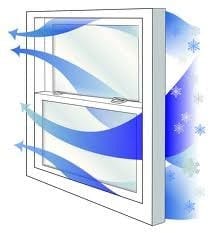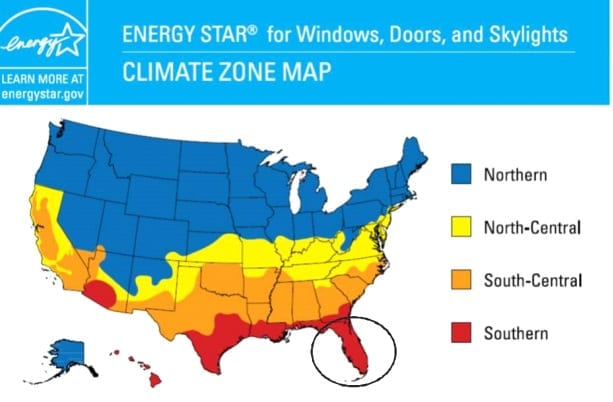 ENERGY EFFICIENCY FACTS
Eleven U.S. states still do not have a building energy code
Only twelve states enforce a current version of the residential model energy code (2006) as it relates to windows and doors
New York State is committed to ensuring that at least 90% of residential and commercial buildings comply with the Energy Conservation Code of New York State (ECCNYS) by 2017
Twenty-three years after commercialization, only 58% of residential windows and doors sold in the United States contain energy-efficient LoĒ glass
Currently, the residential windows and doors sold with energy-efficient glass (58%) are reducing peak energy demand enough to eliminate the need for eight new 200 MW coal-fired power plants each year.