Let us replace Windows & Doors that are resistant to Tornados, as well as Hurricanes
Winds of 70 miles per hour are not uncommon in South Florida; constant winds of that velocity or higher, are generally associated with Tornadoes.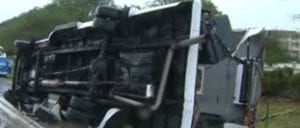 When Tornadoes start, any object can be lifted and thrown into the façade of your property, becoming a life threat to you and your family members; typically, large missile items are expected to hit up to the third floor (chairs, large pieces of debris, any items left on decks and patios) and smaller missile items from the fourth upwards.
Recently, the Palm Beach and Broward Counties have been affected by Tornadoes; the last one in Delray Beach carried winds of 65-85 mph as per the National Weather Service.
Evaluating the zone in which your property is located and the way the facades of your home are designed are key aspects when replacing Windows & Doors.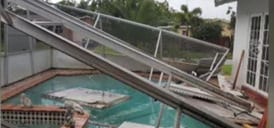 It is not true that any Impact Resistant Product will fit your Home, some areas require protection for higher winds as they are closer to the Ocean or because of other conditions, also certain openings of the building may require products with better resistance, for example units located in corners or close to the corner of the house.
Obtaining proper guidance could save money but most important the life of your loved ones. Call us for a consultation and estimate, we have a vast variety of products that accommodate all requirements and tastes.